Home
Latest News:
Posted 3/25/23
Greetings from Van Dyne Sportsmen Club:
It's that time of year and we have been busy making plans for our upcoming spring and summer events.  We're hoping for and encourage your participation.
Winter Trap League:
Has been extended.  Due to inclement weather the Winter Trap League will be extended to Thursday, April 6th.  Awards night Thursday, April 20th
North Fond Du Lac Trap Team:
They have already started practice for upcoming inter-school Team Matches with matches ending on Thursday May 18th.   See VDSC website Calendar for specifics. vdsc.org
Summer Trap League:
Sign-up and practice starts Tuesday, April 18th.  League shooting starts Tuesday, May 2nd and ends Tuesday, Sept. 19thth.  Awards night Thursday, Sept. 21st.  18 rounds of trap for score.
22 Rifle Rimfire Monday Night League:
Meeting for sign-up will be held Saturday April 29th, 10am.   Practice nights are open for Mondays May 8th and 22nd.  League starts Monday, June 5th and ends Monday Aug. 28th.  10 targets shot for score.
Special Note:  Children 17yrs and younger shoot FREE
American Rimfire Club Tournament (ARA)
VDSC is hosting three ARA sanctioned shoots this summer.  There are two divisions, the Unlimited and Factory.  For someone who would like to get into competition shooting the Factory Class would be an excellent starting point. These events are open to the public.
Sunday, June 10th
Friday & Saturday, July 7th & 8th  is the WI State Shoot.  Friday is for set-up and practice.  Saturday is the Wisconsin State Championship.
Saturday, August 12th
50 Bird Lewis Shoots:
Sunday, May 21st
Saturday, July 29th
Sunday, August 6th
See poster below for more information.
Reminder to all Members:To avoid scheduling conflicts, always check the website calendar before coming out to use the club facilities.  And as always STAY SAFE.
Thank You
VDSC Board of Directors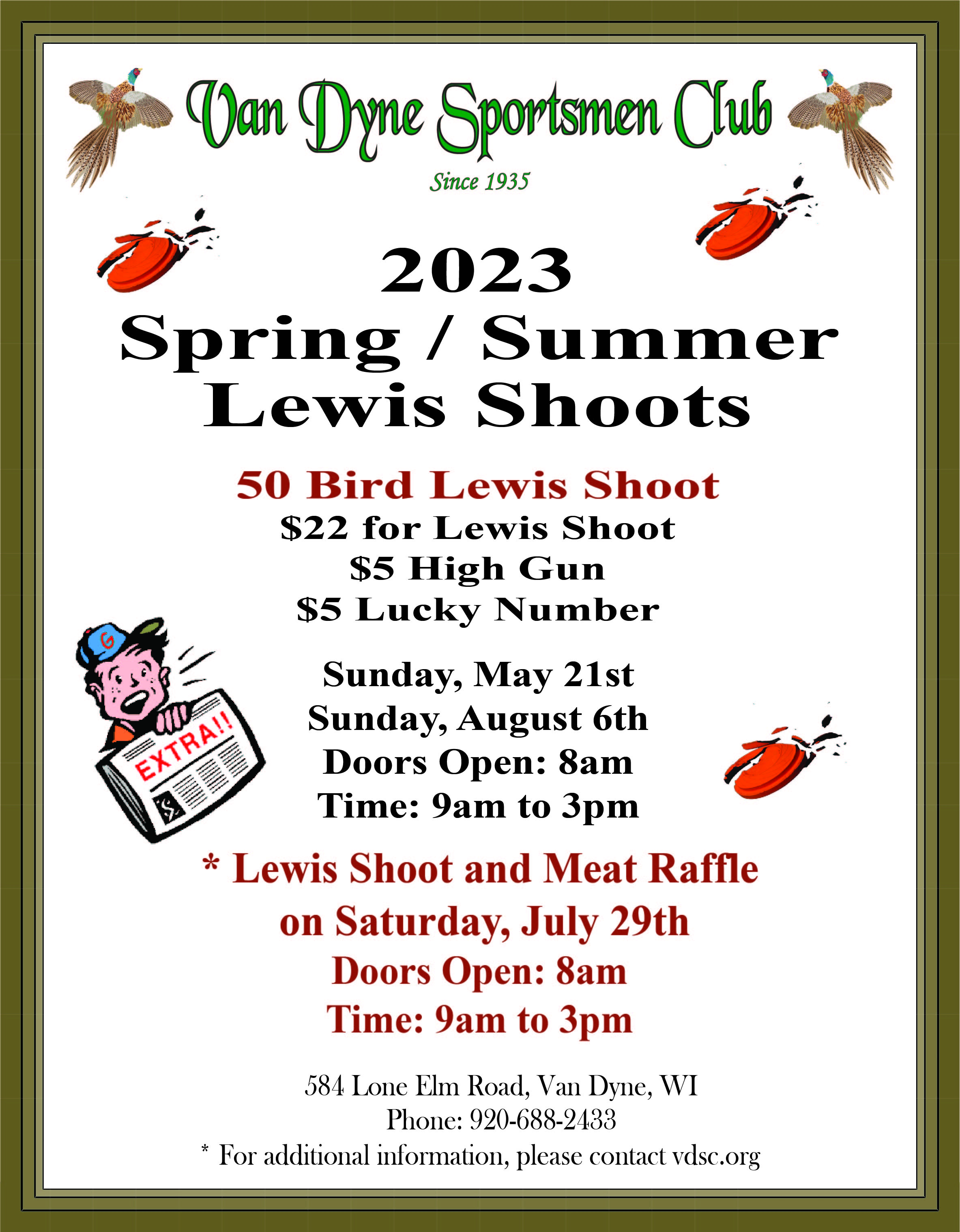 ---
Skeet Field is open:
Skeet Field, before using the Skeet field please read the SAFETY INSTRUCTIONS in the low house on how to safely shut down the skeet machines.  If you have any question, please email the club for the latest information. info@vdsc.org
Thank You
---
New members safety orientation class
We will be giving safety orientation class:
TBD
New members please email us to arrange an appointment.
---
On the rifle/pistol range the only acceptable targets are paper targets or the steel gong, period.
Any member shooting anything else won't be a member long.
For the vast majority of members who this message doesn't apply, thank you.  If you do see anyone violating safety rules stop them and/or report them to the Safety Committee.
BE SAFE!!!
Remember, we are only one bullet away from being shut down.
---
Attention:
Rifle and Pistol Ranges are strictly for VDSC Members and their guests.
Trespassers will be prosecuted.
---
Off hours trap and skeet shooting using a prepaid card system on Trap No. 3 and skeet field.  The prepaid cards are available at the clubhouse.  Cards will be loaded with 5 rounds of trap or skeet for $25.00 and 10 rounds of trap for $50.00.  Plus an initial $2.50 for the card.
---
The 2023 membership renewal available.
You may mail in the form or stop by when the club house is open.
(Please check the calendar for available dates)
Thank you for being a member!
Membership dues are;
$40 per year. (Family membership cover spouse and any children under 18.)
Annual Range Pass $25 or Daily Range Pass $3 (required for range use)
Opt Out Option to not Volunteer Fee $30 (If you volunteered to work last year, did you Work?  If not consider paying the $30 fee this year.)
Memberships are valid Jan 1st until Dec 31st each year.
All new members are required to attend one of the clubs Safety-Orientation class prior to being admitted to the clubs grounds. Once the class is completed you will be issued Security codes and membership
---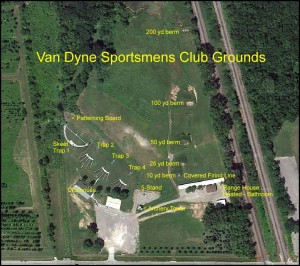 Van Dyne Sportsmen Club is proud to be wheelchair accessible.