Home
Open to the Public
2018 Deer Hunting
Sight-In-Days
Rain Rain Rain?
Don't worry about it.  No Shooting in the rain at VDSC. our firing line is covered and coffee is free.
Sarurday Nov. 3rd – Friday Nov. 16th
9am – 3pm Daily
Cost $5 per gun
Bore sighting available at no charge
Experienced Range Officers to help with sight-in
Heated Range House with free coffee
***
Sight-In-Days Raffle
2 Guns and Scope
Drawing Dec. 5th
***
Members beware:
There is no open shooting during Sight-In-Days and will have to pay the $5 per gun same as general public.
---
The GOOD NEWS:
Trap 3 Card Reader is Up and Functioning for Off Hour Use
And more GOOD NEWS:
5-Stand is up and running
Also, now the 5-Stand Field is lighted
---
3 New Trap Machines
Three new trap machines have been installed to replace the flood damaged machines.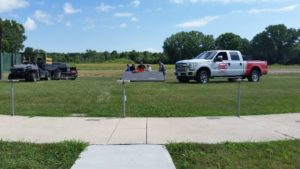 ---
2018 Club House Improvements
New Cooler for the back bar
New LED Lighting
New Ceiling Tiles
---
Safety Orientation Class for 2019
tbd
If you're attending please RSVP at info@vdsc.org
---
---
Card Reader is Up and Running
Off hours trap shooting using a prepaid card system has replaced the coin-op machine on Trap No. 3.  The prepaid cards are available at the clubhouse.  Cards will be loaded with 5 rounds of trap for $20.00 and 10 rounds of trap for $40.00.  Plus an initial $2.50 for the card.
---
The 2019 membership renewal
You may mail in the form or stop by when the club house is open.
(Please check the calendar for available dates)
Follow this link to print or download: 2019 Membership Application
Thank you for being a member!
Note: The $20 fee for late renewals has been waived.  If you were a member last year you can renew your membership anytime.
Membership dues are;
$40 per year. (Family membership cover spouse and any children under 18.)
Annual Range Pass $25 or Daily Range Pass $3 (required for range use)
Non-Volunteer Fee $30
Memberships are valid Jan 1st until Dec 31st each year.
All new members are required to attend one of the clubs Safety-Orientation class prior to being admitted to the clubs grounds. Once the class is completed you will be issued Security codes and membership ID's.
---
Monthly Member's Mtg. – 4th Wednesday of Each Month, January – October, 7:00pm.The January meeting awards are presented to League Teams
 NEW MEMBERS WELCOME
---