Home

There will be only one raffle this year.  Normally we have two (Turkey Shoot & Sight-In-Days).  The 6-Gun Raffle will be a major source outside income for this year.
We are asking all members to help support the club by buying and selling raffle tickets.  There are incentives in place for selling tickets.
We are all dealing with strange and unsettling times and we thank you for your understanding in these matters.
---
VDSC will be doing a "SOFT" opening.
The club will be starting Trap Leagues
Tuesday May 19th and Thursday May 21st
6pm-9:30pm.
The club will be opening for Trap Leagues on Tuesday May 19th and Thursday May 21st 6pm-9:30pm First two nights will be a "soft": opening and if teams which just want to sign up and leave that is OK. They can also stay and shoot Practice, Winter League or start the Summer Leagues, if they so wish.
Strict social distancing will be enforced, with a maximum of ten people in the Club house at any one time.  The clubhouse will be open for access to restrooms and doing business.  That includes: paying for shooting, league sign-up, buying shells, purchasing beverages, etc.  Please NO congregating in the clubhouse, take your socializing outside.
Picnic benches will be set up outside to allow teams to sit out there and again social distancing will be enforced.  Those not following the guide lines will be asked to leave.
Safety First is our primary policy.
The 2020 season will be 16 shoots and end on Thursday Sept 3rd
Those wishing to finish the winter league can do so in conjunction with the summer league, but all winter shoots MUST be completed by June 18th 2020.
Teams buying beverages from the bar will be asked to have one member only to purchase them for the team, this is to limit the numbers in the club house.
Thursday morning shoots will start after Memorial Day Weekend.
Sunday Open Trap shooting will start May 31st at noon-3pm
Re-opening is going to be a TEAM VDSC effort, so, please be patient.  With all your help we can safely get back to enjoying our great Shooting Club.
Stay Safe
Regards The Board of Directors VDSC
---
PRACTICE SAFE SOCIAL DISTANCING
That means 6 feet apart.
That's two AR-15 Carbines or nine 1911 pistols between us.
---
New members safety orientation class
We will be giving safety orientation classes by appointment only.  New members please email us to arrange an appointment.
---
On the rifle/pistol range the only acceptable targets are paper targets or the steel gong, period.
Any member shooting anything else won't be a member long.
For the vast majority of members who this message doesn't apply, thank you.  If you do see anyone violating safety rules stop them and/or report them to the Safety Committee.
BE SAFE!!!
We are only one bullet away from being shut down.
---
Off hours trap shooting using a prepaid card system has replaced the coin-op machine on Trap No. 3.  The prepaid cards are available at the clubhouse.  Cards will be loaded with 5 rounds of trap for $25.00 and 10 rounds of trap for $50.00.  Plus an initial $2.50 for the card.
---
The 2020 membership renewal available.
You may mail in the form or stop by when the club house is open.
(Please check the calendar for available dates)
Follow this link to print or download: (2020 Application)
Thank you for being a member!
Note: The $20 fee for late renewals has been waived.  If you were a member last year you can renew your membership anytime.
Membership dues are;
$40 per year. (Family membership cover spouse and any children under 18.)
Annual Range Pass $25 or Daily Range Pass $3 (required for range use)
Non-Volunteer Fee $30
Memberships are valid Jan 1st until Dec 31st each year.
All new members are required to attend one of the clubs Safety-Orientation class prior to being admitted to the clubs grounds. Once the class is completed you will be issued Security codes and membership
---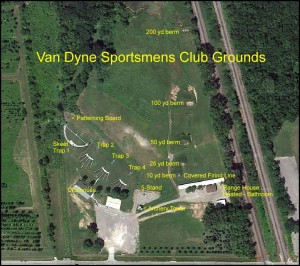 Van Dyne Sportsmen Club is proud to be wheelchair accessible.