Home
VDSC AGM will be on Wednesday February 9, 2022 at 7pm. Membership card required for entry.
We are currently looking for 2 members to fill vacant positions on the board for 2022 left by Al Shepard and Scott Baier.
Thank you all who bought Raffle Tickets in support of VDSC.  And the winners are:
Owen Jones – 1st place, Browning BT99
Brian Leichtfuss – 2nd place, Bergara B14 6.5 Creedmoor
William Hesser – 3rd place, Raven Crossbow Package
Dan Hashin – 4th place, Browning A-Bolt .308
Dick Behnke – 5th place, Stoeger M-3000 Shotgun
Jake Toll – 6th place, Browning Buckmark 22 pistol
Chris Martell – 7th place, S&W Shield Plus 9mm
Allyn Dannholf – 8th place, VDSC Life Membership
---
Winter Trap League
Starts Tuesday January 4th 6:30
Sign-up is in process.  Unfortunately,  because of ammo shortages, VDSC will not have shell available.  Shooters will have to provide their own ammo.
---
ATTENTION: RIFLE AND PISTOL RANGE STRICTLY FOR MEMBERS AND GUESTS ONLY. TRESPASSERS  WILL BE PROSECUTED.
---
New members safety orientation class
We will be giving safety orientation class:
TBD
New members please email us to arrange an appointment.
---
On the rifle/pistol range the only acceptable targets are paper targets or the steel gong, period.
Any member shooting anything else won't be a member long.
For the vast majority of members who this message doesn't apply, thank you.  If you do see anyone violating safety rules stop them and/or report them to the Safety Committee.
BE SAFE!!!
We are only one bullet away from being shut down.
---
Off hours trap shooting using a prepaid card system has replaced the coin-op machine on Trap No. 3.  The prepaid cards are available at the clubhouse.  Cards will be loaded with 5 rounds of trap for $25.00 and 10 rounds of trap for $50.00.  Plus an initial $2.50 for the card.
---
The 2022 membership renewal available.
You may mail in the form or stop by when the club house is open.
(Please check the calendar for available dates)
Thank you for being a member!
Membership dues are;
$40 per year. (Family membership cover spouse and any children under 18.)
Annual Range Pass $25 or Daily Range Pass $3 (required for range use)
Opt Out Option to not Volunteer Fee $30 (If you volunteered to work last year, did you Work?  If not consider paying the $30 fee this year.)
Memberships are valid Jan 1st until Dec 31st each year.
All new members are required to attend one of the clubs Safety-Orientation class prior to being admitted to the clubs grounds. Once the class is completed you will be issued Security codes and membership
---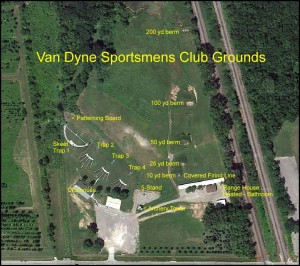 Van Dyne Sportsmen Club is proud to be wheelchair accessible.