Home
Skeet Field has reopend:
Skeet Field has reopend as of Friday 7/29/22.  Also, before using the Skeet field please read the SAFETY INSTRUCTIONS in the low house on how to safely shut down the skeet machines.  If you have any question, please email the club for the latest information. info@vdsc.org
Thank You
---
Van Dyne Sportsmen Club donates $500 to Empowered Dream Hunts Inc.

Glenn Houge presented a check for $500 from Van Dyne Sportsmen Club to Conrad Patrick Jr. of Empowered Dream Hunts Inc.  Empowered Dream Hunts saw the need to help those with challenges, disabilities or illiness so that they can have an opportunity to enjoy the outdoors.  Empowered Dream Hunts is an outstanding organization doing good things.  If you would like to help Empowered Dream Hunts continue please visit their website.  Empowereddreamhuntsinc.org
---
Summer Trap Leagues Sign-Up
Tuesday April 12th and Thursday April 14th
Runs 24 weeks through September 22 to shoot 18 rounds.
---
Rimfire Rifle League – Starts first week of June.
Monday nights 4pm till Sunset. June 6th – September 17th.  Fourteen weeks to shoot 10 targets for score.
Centerfire Rifle League
Wednesday nights 4pm til Sunset.  June 1st – August 8th.  Twelve weeks to shoot 8 targets for score.
If you missed the sign-up meeting not to worry.  Once league starts come out on Monday or Wednesday night and we'll get you set-up.
Members only.   All ranges are closed during Monday night Rimfire League.  All ranges are open to all members during the Wed. Night Centerfire League.
---
---
New members safety orientation class
We will be giving safety orientation class:
TBD
New members please email us to arrange an appointment.
---
On the rifle/pistol range the only acceptable targets are paper targets or the steel gong, period.
Any member shooting anything else won't be a member long.
For the vast majority of members who this message doesn't apply, thank you.  If you do see anyone violating safety rules stop them and/or report them to the Safety Committee.
BE SAFE!!!
Remember, we are only one bullet away from being shut down.
---
Attention:
Rifle and Pistol Ranges are strictly for VDSC Members and their guests.
Trespassers will be prosecuted.
---
Off hours trap shooting using a prepaid card system has replaced the coin-op machine on Trap No. 3.  The prepaid cards are available at the clubhouse.  Cards will be loaded with 5 rounds of trap for $25.00 and 10 rounds of trap for $50.00.  Plus an initial $2.50 for the card.
---
The 2022 membership renewal available.
You may mail in the form or stop by when the club house is open.
(Please check the calendar for available dates)
Thank you for being a member!
Membership dues are;
$40 per year. (Family membership cover spouse and any children under 18.)
Annual Range Pass $25 or Daily Range Pass $3 (required for range use)
Opt Out Option to not Volunteer Fee $30 (If you volunteered to work last year, did you Work?  If not consider paying the $30 fee this year.)
Memberships are valid Jan 1st until Dec 31st each year.
All new members are required to attend one of the clubs Safety-Orientation class prior to being admitted to the clubs grounds. Once the class is completed you will be issued Security codes and membership
---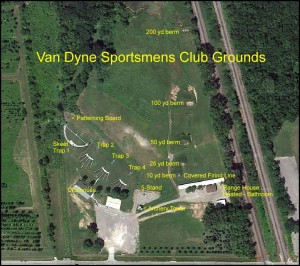 Van Dyne Sportsmen Club is proud to be wheelchair accessible.