Home
5-Stand is down and being worked on.
---
Trap 3 is temporarily down during off hours pending a service upgrade.
We are doing everything possible to keep this interruption to a minimum.  Unfortunately, off hour card reader function will not be available.
---
Sign-up for Fall Rifle Rimfire League in Process
Monday's 4 til Sundown
---
3 New Trap Machines
Three new trap machines have been installed to replace the flood damaged machines.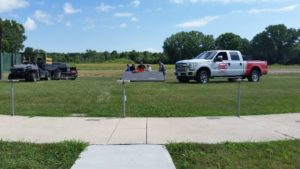 ---
Club House Improvements
All the ceiling tiles have been replaced and new LED lighting installed.
Also: A New Cooler for the Backbar
Out with the old in with the new.  A new cooler was installed behind the bar in the clubhouse.  Replacing the old one was long overdue and costing us a small fortune in electricity.
Thanks to all the guys who got it done.  The old one came out in pieces which was a messy job and the new one had to go up and over the bar.  By no means an easy task.  Kudos for a job well done!!!
---
Safety Orientation Class
TBD
If you're attending please RSVP at info@vdsc.org
---
The 200yd Lake Fly Shoot
Aug. 19th

Last Lake Fly Shoot of the Year
 So far only seven members have got er done.
Do you have what it takes to bag this menace to mankind?  Come out and give it a try.
Aug. 19th
8am – 11:30am
See "Club New" for details.
---
2018 Open Trap Shooting/Leagues
April 3rd – Sept. 13th
Tues. 6:00-10pm,  Sun. 12-3pm
Thur. 8am-12pm & 6:00-10pm
Tuesday and Thursday Night's Trap Leagues Start April 3rd.. Sign up that night and League shooting begins April 17th.. Also Thursday Morning trap shooting starts April 5th . All league shooting is open to NON-Members of VDSC.. Public welcome..Opens at 6:00pm
See "Leagues" for more details.
---
Monday Rifle Rimfire League
Fall league starts Aug 6th
See "Leagues" for details.
---
Pistol Competitions:
The Board of Directors would like to know if there is any interest in pistol competitions or a league.  If interested please contact Adam Sawall @ (920) 379-9622 or email VDSC.
---
Temporarily out of Service
Pre-Paid Card for Trap # 3
Off hours trap shooting using a prepaid card system has replaced the coin-op machine on Trap No. 3.  The prepaid cards are available at the clubhouse.  Cards will be loaded with 5 rounds of trap for $20.00 and 10 rounds of trap for $40.00.  Plus an initial $2.50 for the card.
---
The 2018 membership renewal
You may mail in the form or stop by when the club house is open.
(Please check the calendar for available dates)
Follow this link to print or download: 2018 Membership Application
Thank you for being a member!
Note: The $20 fee for late renewals has been waived.  If you were a member last year you can renew your membership anytime.
Membership dues are;
$40 per year. (Family membership cover spouse and any children under 18.)
Annual Range Pass $25 or Daily Range Pass $3 (required for range use)
Non-Volunteer Fee $30
Memberships are valid Jan 1st until Dec 31st each year.
All new members are required to attend one of the clubs Safety-Orientation class prior to being admitted to the clubs grounds. Once the class is completed you will be issued Security codes and membership ID's. New members only have to take the class once.
Next Safety Orientation class
TBD
Please
RSVP
if you plan on attending.
---
Rifle Match
 Van Dyne Sportsmen's Club/Cast Bullet Assoc. Military Rifle Score Match
2018 Match Schedule: 28 April, 23 June, 18 Aug
For more information go to "Rifle Matches"
---
Monthly Member's Mtg. – 4th Wednesday of Each Month, January – October, 7:00pm.The January meeting awards are presented to League Teams
 NEW MEMBERS WELCOME nun
---